Main Page
[Contents] [1] [2] [2a] [3] [4] [5] [6] [7] [8] [9][10] [11] [12] [12a] [12b] [13] [14] [15]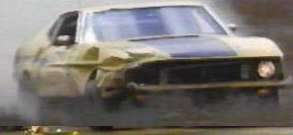 1) Who owns the copyrights to the original Gone?
The widow of H.B. Halicki, Denice Shakarian Halicki. It was never in the public domain. Any claim to the contrary is mistaken, and duplicates of officially issued videos are not legal.
2) Where can I buy a video of the original?
Denice Halicki has released the fully restored and remastered classic on both VHS and DVD. The video can be ordered either through amazon.com or Mrs. Halicki's page. E-mail mleone@gonein60seconds.com to obtain press/video re-issue information.
3) Is the new one on video?
Yes. You may order the DVD here.

4) What is the name of the song that is not on the new one's soundtrack album?
Low Rider by WAR was played by the gang just before they embarked on their mass boost.
5)What is the name of the song that is played during the new one's opening credits?
"Flower" by Moby. It is cut three on the soundtrack CD.
6) Where can I obtain photos of the new Eleanor?
Besides these images, the new one's official site has some pictures. The "recon" page there has downloadable production media.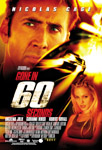 7) Where can I obtain one-sheet movie posters of the new Gone?
Disney publicity might be able to furnish one, but this webmaster cannot provide any further details about that possibility. Posters will show up at any number of on-line and brick-and-mortar movie memorabilia sites as well as the auction sites. The management of a local video store and/or movie theater is also a good possible source.
8) Where can I obtain a press-kit for the remake?
Subject to availability, Disney publicity will provide kits to qualified media outlets. The text of much of the press-kit can also be viewed here.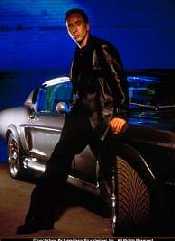 9) What cars made up the list of "ladies"?
The roster can be reviewed here.
10) What kind of motorcycle did Sway (Angelina Jolie) ride?
Ms. Wayland arrives to help in an MV Agusta F4-SPR Senna. The corporate website is www.MVAgusta.com. This info kindly provided by Gone fan Deuce012@aol.com.
11) Were any actual Shelby GT 500s harmed in the making of the new one?
No. According to the July, 2000 issue of Car and Driver ("Gone Again"), Jerry Bruckheimer retained one authentic GT 500, outfitted to resemble the movie's Eleanor, for his own use. The other twelve vehicles were customized 1967/68 Mustangs. One was chopped up for camera work. Two were destroyed for The Jump along with others for the scene at Calitri's wrecking yard. Seven Eleanors survived.
12) What were the mechanical specifications for the Eleanors used in the new Gone?
Each Mustang's front suspension was lowered and replaced with a reinforced coil-over system with rack-and-pinion steering. PIAA driving lights were installed in everyone. One Eleanor used a crated 351 Ford Motorsports engine that put out 400 hp, but the prevalent powerplant was the more prosaic 289. They all got Schmidt 8.0-by-17-inch wheels with P245/ 40ZR-17 Goodyear Eagle F1 tires. Keep in mind the actual GT 500 used the Ford big-block 428 cid mill which produced an advertised 355 horsepower. The GT 350 made do with the 306 hp 289. Beyond that, the "350" and "500" model designations were numbers chosen almost at random by Carroll Shelby and bore no other relation to engine displacement or power.
13) Who designed and built the new Eleanors?
Production Designer Jeff Mann hired hot-rod designer Steve Stanford who worked with Boyd Coddington alumnus Chip Foose to design and plan the customization. The actual work to each vehicle, including Jerry Bruckheimer's personal Shelby, was then done by Ray Claridge's Cinema Vehicle Services.
14) Can I build my own (new) Eleanor?
Yes. Cinema Vehicles put together kits that are now being marketed by Total Control Products, LLC.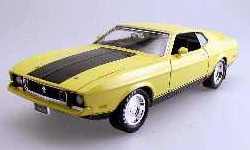 15) Does the original Eleanor still run?
Definitely. She appears at Willow Springs Raceway for Eleanor 2000, a short video that accompanies the re-issue of the original Gone. Eleanor was doing power slides and other stunts while reaching speeds of 100 mph.
[Contents] [1] [2] [2a] [3] [4] [5] [6] [7] [8] [9][10] [11] [12] [12a] [12b] [13] [14] [15]