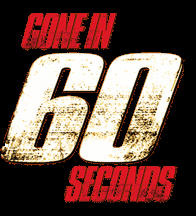 rating: PG-13
length: 117 minutes

The good: Vinnie Jones, Chi McBride, TJ Cross, Nicolas Cage, Delroy Lindo, the LA River and shipping yard chase sequences, most of the stunts, the explosions.

The bad: The underutilization of Robert Duvall and Angelina Jolie, the editing of The Chase.

The ugly: The Jump, Christopher Eccleston, Giovanni Ribisi, Master P, the running Asian-American driving student gag.

The new Gone in 60 Seconds is a fairly entertaining action film that is burdened by its over-reliance on simple plot exposition and radical MTV-style Chase editing.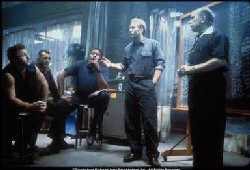 Instead of treating the viewer to a flashback detailing why Memphis had to leave town, it is simply explained in a short and very-poorly written confrontation between Atlee Jackson (Will Patton) and Kip Raines (Giovanni Ribisi). The audience knows Memphis is a legendary car thief because everyone says he is. He is not shown in action until almost the end. Kip says he resents Memphis' abandonment, but does not act on it or demonstrate his anger in any convincing fashion. This tact can work only if the dialogue and acting are excellent. Neither is the case here.
To be sure, Gone comes to life, however fitfully, at the end with The Chase. At 13 minutes (max) in length, and with no more than 20 cars destroyed, the 1974 original's benchmark 40 minutes and 93 cars is quite safe. The 160 mph riverbed scene is very exciting and the backwards driving and shipyard free-for-all are entertaining. For example, Timothy Olyphant has one of the funnier scenes where he asks the officer in the smashed Jeep if he was OK, because he had just driven through a wall.



But The Chase is hobbled by the editing. A good pursuit is a fluid procession of events with the pace being set by the pursuer and his quarry. It is not a collection of stunts and crashes strung together with little or no transition or interaction. Eleanor takes off. She then goes 160 mph. She then drives backwards. She goes through the shipyard. She jumps. People follow NASCAR and other motorsports to see the cars jockey for position, not just crash. Basketball and hockey are watched for the playing, not the fouls. If that is all that is needed, any given They Walked Away crash video or WWF pay per view event would suffice. Here, there is precious little play between Eleanor and her would-be captors.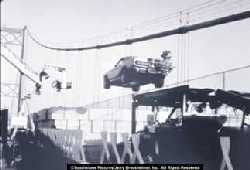 The biggest disappointment is The Jump. Everything is OK up until the point Eleanor hits the trailer ramp. The airborne sequence lasts too long and is obviously animated. Computer animation works for dinosaurs and toys. It does not work for car chase jumps. At one point Eleanor is unrealistically floating in the air. Then the film suddenly cuts to a split-second rear-view of the beginning of her landing and then her impact on the bridge. It is as if she just drops on the bridge and wobbles away.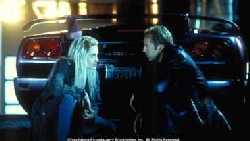 Kudos need to be given to Gone's bright spots. Vinnie Jones, the silent and menacing Sphinx, steals the show. The explosions are good, as is the gag with the rival gang's Mercedes sedan. Chi McBride and T.J. Cross are consistently funny. The car-jacking scene with McBride is one for the ages. Nicolas Cage's character is likeable enough and his performance is appropriately deadpan. Robert Duvall (the cabby in Bullitt) and Angelina Jolie are both quite good. When they are on screen and allowed to do anything other than look old and wizened or sexy and dangerously cool. Which isn't often. Delroy Lindo is effective as the dogged, impatient but otherwise professional detective closing in on his quarry just as Memphis is closing in on his heretofore-jinxed Eleanor.
Eleanor is the source of a great deal of ambivalence. There is no denying she is fast and good looking. These attributes do enhance the excitement of the chase and its various stunts.
However, the main plot conceit of the 1974 Gone is this: The master car thief could get any Rolls, exotic, racing car, whatever, he wants. But that 1973 Mustang, which is everywhere, just can't be had. If the original premise is to be carried over intact, the new Eleanor would be a vehicle just as available and ordinary. Say, a new Mustang or Camaro, Acura, Eclipse, Saturn SC2, whatever. NOT a super-rare 1967 Shelby GT 500.
Shelby-modified Fords all have three things in common: They a) were underappreciated when first on the market, b) were raced and otherwise abused by their original owners and c) are now incredibly rare and valuable collectors' items. 1967 is the first year for the GT 500, which lasted through 1969. Eleanor was produced in very small numbers. She would be very heavily alarmed and stored under constant lock and key. She would be taken out, if ever, for the stray show and shine or Friday night cruise. Not just parked in a relatively open downtown garage. And she would not be modified or customized as she was in this movie. Collectible cars lose much of their value if they are not original. It would make vastly more sense for the enthusiast to modify a 1967 or 1968 Mustang.
The less said about the bad guy, the kid brother and the rival gang leader, the better. Christopher Eccleston makes no sense whatsoever as the villainous Raymond Calitri. He doesn't act so much as he either whines or screams. Giovanni Ribisi practically sleepwalks through his lines, talking mostly in a dull monotone. His circa-1994 grunge-slacker is so bratty, inept and otherwise unsympathetic that it is unclear why anyone would want to save this idiot from the mess he got himself into. Additionally, Memphis has to deal, for no apparent reason, with a rival car theft gang leader who answers to the street moniker of Johnny B, played by gangster rapper Master P. The fresh-faced, Smurf-like P brings to the role all the menacing street-credibility of Donny Osmond. This rivalry, while responsible for some entertaining explosions and like-minded socially-irresponsible gags and stunts, does not in any way advance the plot of the movie.
And, finally, the Gay and Lesbian community can breathe a collective sigh of relief. Jerry Bruckheimer no longer considers flaming, over-the-top, not-quite-as-butch-as-Liberace queens to be funny. He now thinks that barely coherent Asian women who cannot drive are hilarious. Ecch.
Philip D'Antoni, John Frankenheimer, William Friedkin and John Woo have nothing to worry about with the new Gone in 60 Seconds and the original cult classic does not suffer in comparison. But, ultimately, the plot is decent, the acting generally OK, and the concluding chase is better than average. In short, Gone cuts the mustard as summer action entertainment.
The Car Chase Forum

---
[Contents] [1] [2] [3] [4] [5] [6] [7] [8] [9] [10] [11] [12] [12a] [13] [14] [15]