The Unofficial Gone in 60 Seconds Fan Webpage
[Contents] [1] [2] [2a] [3] [4] [5] [6] [7] [8] [9] [10] [11] [12] [12a] [13] [14] [15]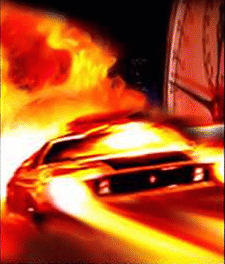 LET THE WRECKING BEGIN

H.B. HALICKI'S
ORIGINAL CLASSIC

93 cars destroyed in the
CRASH-CRUSHING
CAR-SLAMMING
40 minute chase scene....


e-mail for official release/purchase information
VHS Features: (order through Amazon.com)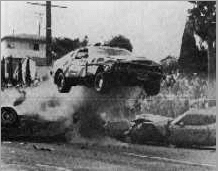 Formatted to fit TV

Dolby Digital sound

Newly remastered trailer

New soundtrack

Introduction by Denice Shakarian Halicki, widow of Gone creator H.B. "Toby" Halicki

Never-before-seen footage

Eleanor2000 - The star of the original in her own video filmed at Willow Springs race track.
DVD Features: (order through Amazon.com)

All of the above, PLUS
Widescreen format
5:1 Dolby Digital Surround Sound or DTS Surround Sound or Digital Stereo

Audio commentary with cinematographer Jack Vacek and editor Warner Leighton
Interviews with automotive legends J.C. Agajanian Jr., Lee Iacocca, Parnelli Jones and Bobby Ore

Newly remastered trailer for both Gone and H.B. Halicki's second film, The Junkman

DVD ROM with 30 scene selections, 24 behind the scene photo galleries containing over 300 never-before-seen images, international Gone movie poster gallery and hidden Easter egg.

Region 1 encoding - USA and Canada only.
---
New old stock (NOS), used, and/or out-of-package (OOP) copies of the first edition video might be found on eBay or any of the other on-line auction sites. Steer clear of any duplicate tapes or copies claimed to have been made under public domain (Gone was never in the public domain).
---

---
[Contents] [1] [2] [2a] [3] [4] [5] [6] [7] [8] [9] [10] [11] [12] [12a] [13] [14] [15]