The Unofficial Gone in 60 Seconds Fan Webpage
The Official Gone in 60 Seconds Site
e-mail Contents
[1] [2] [2a] [3] [4] [5] [6] [7] [8] [9] [10] [11] [12] [12a] [12b] [13] [14] [15]

FOR IMMEDIATE RELEASE

Fasten Your Seatbelts!

The Best Car Chase Ever is Finally HereÖ

Gone in 60 Seconds: 2

H.B. "Toby" Halickiís Never-Seen Follow-Up

to His Original Classic is now available on DVD

with

Deadline Auto Theft

- The 3rd in the Gone in 60 Seconds Trilogy -

DVD Also Includes

Speed Channelís

45-Minute

The Life and High Times of H.B. "Toby" Halicki and more

!
H.B. "Toby" Halicki -- known throughout the world as "The Car Crash King" -- wrote, produced, directed and starred in three films which, according to critics, defined the car chase/crash genre with their electrifying realism and ability to maximize what a car can do without special effects or computer generated imagery (CGI).
Legions of Halicki fans get a very special treat with Navarre Corporation release of Halicki Filmsí Gone in 60 Seconds: 2, Halickiís fourth and final car chase extravaganza.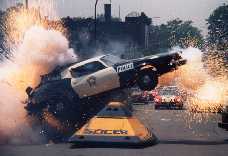 Where Gone in 60 Seconds co-starred "Eleanor," a fast and furious Ford Mustang that couldnít be caught, Gone in 60 Seconds: 2 co-stars something new: "The Slicer," a one-of-a-kind Halicki custom-designed and built vehicle that simply has to be seen to be believed. Itís a real, unstoppable wedge car that cuts through everything in its path, flipping & spinning cars and other vehicles, without the use of special effects. Although the filmís production was cut short due to a tragic, on-set accident that claimed Halickiís life, most of the filmís chase scenes were completed and appear here for the first time.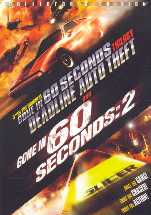 Deadline Auto Theft, the third movie in Halickiís famed car crash trilogy and another full-throttle adrenaline ride, makes its DVD debut on the same disc, along with the much requested documentary, The Life and High Times of H.B. "Toby" Halicki -- originally aired on the Speed Channel, but never before available for purchase.

Halicki Films has carefully restored and digitally remastered the films in Dolby 5.1. and DTS surround sound. Jam-packed with bonus features, as well as a widescreen version of Deadline Auto Theft, the DVD is available through amazon.com.

Tom Lenaghan, President of Halickiís Home Entertainment division, said, "Toby Halicki and his films are a branded franchise, amassing more than $100 million.

His first DVD release went through the roof two years ago, and we expect the same for this new one which will be scooped up not only by the core fans but by everyone with a need for speed."

Halickiís first highly successful film, Gone in 60 Seconds (1974) revolutionized the way car crash films were made and became an instant classic, grossing more than $40 million at the U.S. box office, a huge number for a 1974 independent film. Gone in 60 Seconds also earned critical acclaim for its innovative style, with USA Today (reviewing the DVD) calling the climactic ending, "One of the greatest car chase scenes in history!" The Chicago Tribune named it "The ultimate car crash film!" The Junkman -- The 2nd in the Gone in 60 Seconds trilogy, followed in 1982, and wound up breaking the Guinness Book of World Records for the Most Car Crashes in a single film; two years later, Deadline Auto Theft - the 3rd in the trilogy, made its debut

.

In the summer of 1989, Halicki began production on his fourth movie, Gone in 60 Seconds: 2. As with all his other films, he shot the filmís finale, a 40-minute car chase, before he filmed any of its other scenes. However, on August 20, 1989, Halicki was killed when a 160-ft. water tower collapsed suddenly while he was shooting one of the most dramatic stunt sequences. Luckily for fans, most of the out-of-control car crash scenes -- the essence of all Halickiís movies -- were already shot.

It was a tribute to Halickiís enduring popularity over the past three decades that led producer Jerry Bruckheimer and Touchstone Pictures to pay homage to the original Gone in 60 Seconds with a 2000 remake that starred Nicolas Cage, Angelina Jolie and Robert Duvall. Directed by Dominic Sena (Kalifornia, Swordfish) -- who began his career as one of Halickiís camera operators on The Junkman -- the remake grossed more than $350 million.

Denice Halicki, who had helped Halicki run his business empire, has worked tirelessly to preserve her late husbandís legacy through various efforts. As head of Halicki Films, she executive produced the Gone in 60 Seconds remake. She is currently working on a book about her experiences as well as new versions of The Junkman, Deadline Auto Theft and Gone in 60 Seconds: 2.

"Toby was born with gasoline in his veins," says producer Michael Leone, Denice Halickiís business partner, who produced this and the other Halicki DVDs. "Toby pushed the envelope beyond what had ever been done in film, using real cars in real time, with no nitrous oxide or digital tricks. Due to a variety of reasons, you could never duplicate today what he did then. "

Racing Champions Ertl Corporation, a leading producer and marketer of high quality, innovative collectibles and toys, also saw the popularity of Halicki films and licensed and released an all-new muscle car collection for the original Gone in 60 Seconds as well as The Junkman die-cast scale cars and activity kits (required assembly) in 1:18 scale & 1:64 scales. Both lines continue to be big sellers in major retail outlets around the country.

Gone in 60 Seconds: 2

H.B. Halicki reprises the role that made him famous in this never-before released sequel to the car chase classic, Gone in 60 Seconds. As a legendary car booster, Halicki fearlessly wrecks anything on four wheels while trying to flee from a group of killers and the police in a stolen semi tractor-trailer. After Halicki destroys half the city in the chase, he takes off in "The Slicer." In an attempt to make Gone in 60 Seconds: 2 one of the most amazing car chases ever filmed, Halicki bought more than 400 cars, destroying almost three times as many cars as in the original.

Deadline Auto Theft

Halicki, the number one car thief in America, is at it again. But when he makes the fatal mistake of stealing a beautiful car that belongs to the LAPD Captainís daughter, Halickiís case turns into a personal vendetta. With an all-out war waged against Halicki

and the cityís cops under strict orders to stop him at any cost, the streets of Los Angeles are overrun with gear-shattering, full-throttle, high-speed chases. Itís a nail-biting race to the end with Halicki determined to be the man standing at the finish line.

The Life and High Times of H.B. "Toby" Halicki

Originally aired on the Speed Channel, this action-packed 45-minute documentary, takes viewers inside the life of one of the greatest car chase filmmakers the world has ever seen. Told with warmth and humor, the documentary reveals a remarkable American Maverick and entrepreneur. From the moment he left home, at 15, with $40 in his pocket following the accidental deaths of two of his twelve siblings, Tobyís unique creativity, intense drive and tremendous work ethic stood him in good stead. Never compromising his fiercely independent spirit, he became a financial success and won friends no matter what he put his mind to. The story of how he began as an auto-body man while finishing high school, quickly building a huge auto business, then took on the challenge of real estate and finally tackled independent filmmaking is simultaneously inspiring and heart warming to viewers from all walks of life.

The documentary includes unbelievable stories, photos, movie cuts as well as interviews with his wife Denice, friends, cast and crew members, Nicholas Cage and Dominic Sena.

Special features for the Gone in 60 Seconds: 2 & Deadline Auto Theft DVD include:
Introductions by Denice Halicki
Crash Counter: Viewers can engage the crash counting feature and watch a counter at the bottom of the screen to keep track of the number of cars demolished during each film (over 250 crashes Ė Gone in 60 Seconds: 2)
The Life and High Times of H.B. "Toby" Halicki ,
Speed Channelís action-packed 45-minute documentary
Trailers
DVD/ROM enabled Photo Gallery (viewable and downloadable) including 250 exclusive photos from all Halicki films, plus the debut of his private collection of cars and toys -- one of the worldís largest -- with more than 100,000 antique toys and car-related paraphernalia dating back to the 1920s. Halickiís Collection was housed in a warehouse the size of a football field and was his personal playground.
Interactive Menus
Scene selections
Newly restored and digitally remastered prints in 5.1 Dolby & DTS surround sound.
Rating: PG
Gone in 60 Seconds: 2

/ Deadline Auto Theft is a Halicki Film, distributed by the Navarre Corporation.

Contacts

Carl Samrock Public Relations
Karen Penhale / Tara Conrad 818.260.0777
Request materials: taraconrad@cs-pr.com or 818/260-0707 (fax)

Navarre Corporation
Joyce Fleck, VP Marketing 763.535.8333 or jfleck@navarre.com
Chris Smith (Manager, Video/DVD Marketing) 763.971.2832 or csmith@navarre.com