Posted as a Public Service by State Mottos That Didn't Make It

What Can Be Done With This Picture?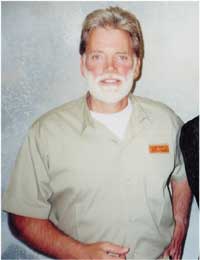 The above-photo, taken in custody, of the man who single-handedly ruined the nicknames of John Wayne, George Deukmejian and Michael Dukakis, seems to be a punchline in search of a joke. Or a photo in search of a caption.

As of January, 2004, news reports have white supremacist and felon David Duke contemplating a run for U.S. Congress once he gets out of federal prison.

Please join in this page's modest efforts to welcome Mr. Douch Duke back to the outside world by e-mailing your webmaster with one or both of the following:

1) A caption for this picture;
2) A Photoshop ® or some-such software-modified version of the graphic. Only one rule: Nothing pornographic.

Your contributions will be posted here for all to see with a link back to either your e-mail or homepage.
---
Our Readers Contribute......

"HOLLYWOOD, CA (AP) MGM/UA studios has just announced the casting of Christopher Walken in their newest film project, "Heaven's Hate" the life story of the controversial former Ku Klux Klan leader David Duke." McArthurHome@aol.com

"Welcome to Wendys. May I take your order please?" http://www.coolcats50.netfirms.com/

"BRANSON, MO (Reuters Entertainment) Management of the Tributes to the Stars Pavilion and Family Buffet in Branson, Missouri have announced the signing of a three-year contract with David Duke (pictured above during a break in rehearsals) to portray Kenny Rogers in their family-oriented multi-media show that pays tribute to the country-western legend." Anonymous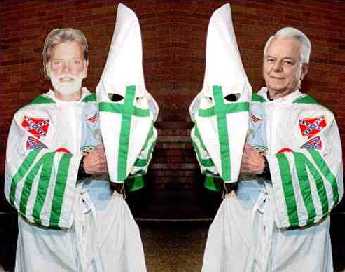 kss5280@comcast.net
e-mail here with your submission.
---
Sign my GuestBook



Read my GuestBook
Guestbook Archives