Photos from the trip:
1 2 3 4 5 6 7 8 9 10 11 12 13 14

To the North: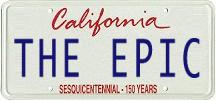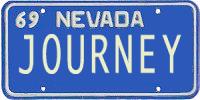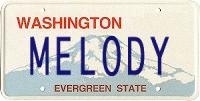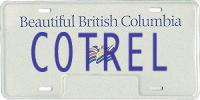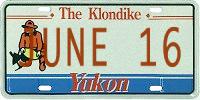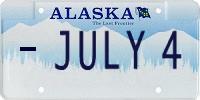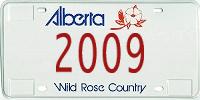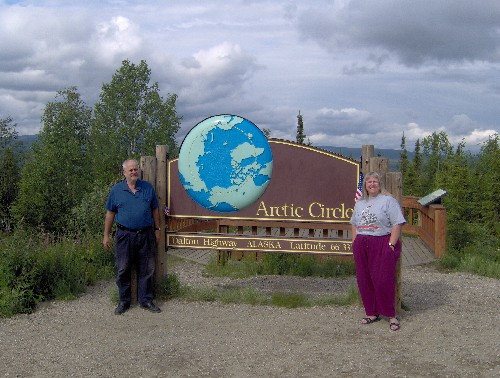 A Summation:
June 16, 2009. 141,318 miles on the odometer: Left Burbank at 10:27 am. Our plan is to take US 395 north to Canada, and then British Columbia Provincial Hwy 3 to Hwy 97 to Dawson Creek. We stopped at Manzanar (just north of Lone Pine) that day to tour the museum and camp ruins. We decamped in Reno that night at 11:49 pm,141,788 miles.
June 17. Drove all day to get to Pendleton, Oregon at 142,360 miles.
June 18. Visited Beautiful Downtown Burbank, Washington, 142,429 miles. Detoured to Coeur d'Alene (just outside of Spokane), 142,600 miles. Crossed the Canadian border at Cascade, British Columbia, 142,746 miles, 5:29 pm. Spent the night at Westbank, 142,907 miles.
June 19. Arrived in Dawson Creek at 11:30, 143,603 miles.
June 20. Took off from Mile Marker '0' of the Alaska Highway, Dawson Creek. Had my first poutine at the Fort St. John A&W, 143,650 miles. Not bad. We spent the night in a cabin/chalet at the Northern Rockies Lodge on the shore of Lake Muncho, 144,045 miles.
June 21. We crossed into Yukon at Contact Creek, 144,169 miles. We spent the "night" at Whitehorse, 144,487 miles. We walked through the downtown area 11:00 pm-midnight.
June 22. We made it to the Alaska border, 144,795 miles, and on to Delta Junction where we spent the "night", 144,993 miles. We got there after 10:00 pm and it was still daylight.
June 23. We continued on the Richardson Highway (AK state route 2) to the Dalton Highway (AK state route 11) and on to Coldfoot, 60 miles north of the Arctic Circle, where we spent the "night", 145,343 miles.
June 24. Now we come back. We spend the "night" in Fairbanks, 145,618 miles.
June 25. North Pole, home of one of the busiest post offices in the world, 145,656 miles. We crossed the border back into Canada at Beaver Creek, YT, at about 5:30 pm and 145,956 miles, when we heard over the CBC that Michael Jackson had died. We went on to Haines Junction, 146,139 miles, before calling it a day.
June 26. We go on to Watson Lake, YT, 146,510 miles, where I am allowed to commune with the Sign Post Forest.
June 27. Melody finally spots a moose who will stand still long enough to be photographed. I have my second plate of poutine at the Sasquatch Crossing café at the Mile 147 marker. We make it back to Watson Lake at just past 9:30 pm and 147,117 miles.
June 28. We crossed into Alberta at 147,132 miles for the same reasons we ventured into Idaho: To say we can. We then made it to Quesnel, B.C. for the day, 147,468 miles.
June 29. We bid adieu to Canada and our last Tim Horton's at Abbotsford, B.C., 147852 miles, and hello to America at Sumas, WA, 147,857 miles, 7:12 pm. We call it a night in the shadow of the Seattle Space Needle at 147,973 miles.
June 30. After touring the Queen Anne (Victorian House architecture) district, Pike Market and the original Starbucks, we go on to Salem, OR, where we spend the night, 148,248 miles. Fun fact about Oregon: Self-serve gasoline stations are against the law. If a state inspector spots you trying to fill up your own gasoline, that station loses its business license.
July 1. We cut across to the shore at Crescent City and head down US 101 to Fortuna, where we spend the next two nights as guests of our friends, Jess and Carlos, 148,641 miles.
July 3. Our friend, Joyce, puts us up at her place in Lincoln (just north of Sacramento), 148,951 miles. She is the nurse who was there when we found out Melody was pregnant with Jack.
July 4. Back in Burbank, 149,359 miles, 5:10 pm, and in time for the fireworks. And Melody is still talking to me. 243.63 gallons. 8,041 miles driven. 33 mpg. Two oil changes, two small rock chips on the windshield that cost CDN$44.00 to repair.
Postlude: July 6: I finally washed the car. July 21: After surviving the Alcan and Dalton, a gravel truck kicked up a stone large enough to necessitate the replacement of my entire windshield.
INDEX/PICTURE GALLERIES
A Summation
Getting Started
Another Burbank
At the Start of the Alaska Highway
On the Road to Yukon
Mid"night" in Whitehorse
Delta Junction
On to Coldfoot
Coming Back
Fairbanks and Beyond
Forest Primeval
Return to Dawson Creek
Sightseeing in Seattle
Back in California

Thomas P. Cotrel, Attorney at Law